Robotics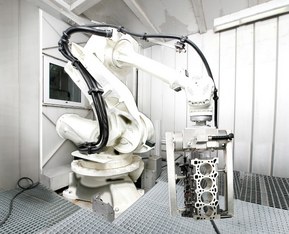 Robots have come to play such an integral role in a variety of industries that robot technology has become one of the most dynamic areas for development. LAPP offers products that also continue to evolve to meet the demands of robotic operations.
Increasingly considered a crucial element of complex production processes and being used throughout entire industries, robots, and their corresponding cables, components and cable systems are also always in motion and constantly exposed to intense conditions.
With our superior products, you can ensure accurate, reliable performance and higher manufacturing productivity, while avoiding major downtime and lost production. These are just a few reasons to partner with a company that delivers expertly engineered products that are rigorously tested for high performance and durability.
Requirements for cabling solutions in robot applications:
Extreme bending and rotational movements
Highest levels of flexibility, stability and durability
Limited space available for cabling
Individual assemblies
Fast delivery of important replacement parts
Versatile cable systems – every robot type features different motion sequences
The failure of just one component can risk bringing the entire production line to a standstill, causing losses running into the millions.
How LAPP can meet these requirements:
LAPP, with its robotics specialist, LAPP Muller, has been working intensively in the area of robotics for more than 30 years and produces control and data network cables, special cables and the corresponding assemblies. As a result, LAPP provides high-quality standard products as well as individual customised products.
Lapp Robotics
(PDF 1 MB )
We combine the future and the present - click here for more information.
Recommended Products for Robotics
Our team of experts in our regional offices or strategic partners are glad to work with you in identifying the best product for your application needs and answer any questions you might have.Contact us