Industry 4.0 with Tough IoT - Smart Factory
FOR THE SMART FACTORY OF TOMORROW
Data has increasingly become a key element in the fourth industrial revolution, emerging as the very fuel that keeps business-to-business (B2B) applications of the factory automation and manufacturing engines running.

In this "smart factory" enabled by Industry 4.0, millions of devices and components in machines and production lines interact with each other through advanced deep learning and Artificial Intelligence (AI), enabling complex tasks to be remotely controlled and fully automated. This evolution-in-progress places a strong emphasis on data transmission, acquisition, accuracy and analysis as critical building blocks of the new industrial infrastructure.

Yet, data cannot go from one point to another without a reliable hard-wired or wireless connection – in fact, this connectivity within the industrial infrastructure is as significant as the transmitted information itself! While Ethernet has been rapidly adopted to facilitate such transmission, the rugged industrial space presents a challenging landscape that is markedly different from the commercial space that Ethernet technology has thrived in.

Parallel with such developments, an industrial standard framework known as M.I.C.E. has emerged, setting out requirements for industrial Ethernet cabling which can be used to evaluate physical environments and ensure reliable production line operations on the factory floor. By categorizing industrial facilities according to their environmental severity, it provides a handy reference in the selection of compatible cabling components in any plant design for both Ethernet and non-Ethernet, and allows end users to determine the ruggedness and robustness of cabling parts, as well as their suitability for use in such challenging settings.

A framework that expresses the severity of environmental effects on cables & devices

M
Mechanical
Motion, flexing, vibration, torsion, wear and tear

I
Ingress
Protection from dust and water entry

C
Chemical / Climatic
Oils, solvents, chemicals, extreme temperatures

E
Electromagnetic
Radiated and conducted EMI, surges, electrostatic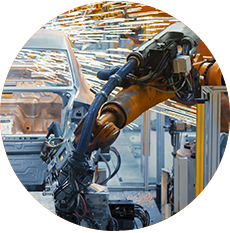 In industrial environments, specialized cabling is often required to meet specific physical stressors including electromagnetic noise, chemical resistance (such as from wash-downs) and abrasion (such as from robots and moving equipment). Cables and connectors form a powerful communication infrastructure that is needed to facilitate transparent and flexible industrial processes.

As the backbone of communications in smart factory networks, use of the right cabling and connector components helps prevent costly downtime and operational shutdowns. Yet, the integrity of entire networks is only as strong as its weakest link!

A comprehensive and best-of-its-kind portfolio, LAPP's tough IoT solutions have been tailored to withstand harsh industrial environments, perfectly connecting the critical Industry 4.0 elements including machine/device, sensor and the network.

Reliable
Constructed to the highest standards with optimal functionality and process reliability

Robust
Certified resistance to a wide range of media for durable use

Rugged
Built for use in rough environments, both indoors and outdoors
Built on 3R principles of "Reliability, Robustness and Ruggedness", LAPP's tough IoT portfolio boasts all-round capabilities optimized for harsh environments. Tailored to meet the demands of flexibility and agility for Industry 4.0, yet robust enough to handle mission-critical tasks on the factory floor, these comprehensive solutions are trusted by customers to help them capture the benefits of industrial-grade products.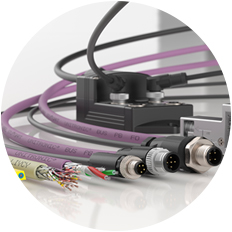 Fast, safe and forward-thinking solutions for transferring data, the range includes data cables for all electronic applications, from tiny cables in coffee machines to those transferring huge amounts of data in supercomputers.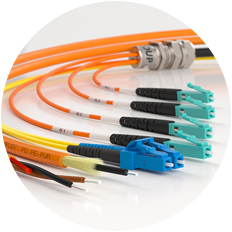 Ensure consistent quality with secure, fast and reliable ETHERLINE® solutions, and check out the space-saving ETHERLINE® Access system for simpler installation.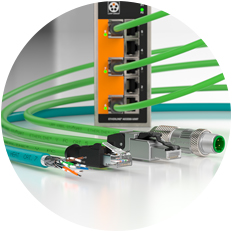 These fibre optic cables are not just unbeatably fast but also secure against electromagnetic interference.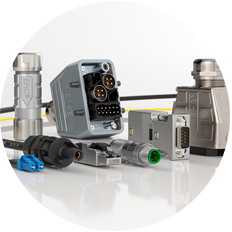 Quick and robust, EPIC® modular connector systems are designed for plug, unplug and play functionality whilst compatible with market standards, and can be custom-configured to meet application requirements.

Besides selecting robust individual components, the design and routing of cables on the production floor are equally critical. The expertise of a reliable partner such as LAPP will not only help you apply best practices during cabling installation and design layout, but also equip you with protocol-independent expert advice and manufacturing insights, wherever you are in the transition to Industry 4.0.
We are currently focusing on industrial sectors in which LAPP is already strong. And we're not just thinking about cables, but complete systems and our customers' entire processes.
— Dr Susanne Krichel, Senior Manager for IoT business development at LAPP
Going beyond cabling components, LAPP is now growing keenly alongside our customers to offer complete solutions from one source, guiding them to achieve process improvements, considerable savings and truly fulfill the promise of "Industry 4.0".