Industry 4.0 at LAPP
Smart processes. Smart products. Smart personnel.
The future began long ago at LAPP. The Smart Factory principle is pervading more and more sectors and is having an increasing influence on our thoughts and actions.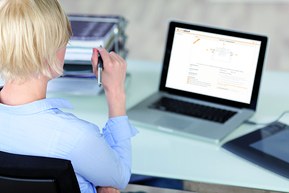 A good example of the implementation of Industry 4.0 is our EPIC® housing configurator on our website. Using the online configurator, in just a few steps our customers can compile their individual industrial connector housing with their own locking concept and requirements-based cable entries on their own computer.
Our product portfolio is also adapting more and more to the requirements of the modern age. As a competent partner in the realisation of future-oriented networks, we have greatly extended our cabling and connection technology range for Industrial Ethernet and fibre optic cables so that we can supply the market of the future with ground-breaking solutions.
Within the framework of Industrial Ethernet applications, LAPP offers solutions such as the highly flexible ETHERLINE® FD Cat. 6A for applications where the highest data rates have to be transmitted with consistent reliability in drag chains that are under constant movement with a data rate of 10 Gbit/s.
Connectors that comply with the Cat. 6A standard are required for the connection. If water-tightness and dirt resistance in accordance with IP67 are also required, we recommend the use of M12 connectors. In order to fulfil the Cat. 6A requirements, here at LAPP we have recently supplemented the familiar D-coded M12 connectors with an X-coded variant. The most important principle of all our industrial network solutions is that network technology in an industrial environment must be kept simple on the one hand, and must be rapidly connectible without special tools on the other hand.
Space-saving yet robust solutions such as the 30 per cent thinner ETHERLINE® EC are suitable for use at sensor/actuator level and allow the tightest bending radii. Drag chains can also be configured with such extremely small dimensions. Thanks to the robust PUR outer sheath, the cable can also be used with high mechanical stresses or in oily environments. The robust 4-wire Cat. 5e Ethernet cables are also available as finished products with a pointed, space-saving M8 connector that is substantially smaller than the M12 connector that is otherwise commonly used with Industrial Ethernet.
On the way to the new era of Industry 4.0, it is also particularly important to take your own employees along with you. Progress is not possible without motivated and well-trained specialist personnel. With this in mind, we make e-learning modules on the subject of networking available to our employees around the world. This is an offer that is very well received and that is enjoying growing popularity. We also offer webinars to our customers, covering the subject of Industrial Ethernet networking. The information requirements are generally very high. This of course also applies to vocational training, where we also see a great need for action in adapting the training contents to suit the changed vocational requirements. LAPP actively helps to shape these changes in collaboration with other training companies.
More information